City Honors Fisk Jubilee Singers
March 5, 2005 Press Release: D-Day Media Group, Inc.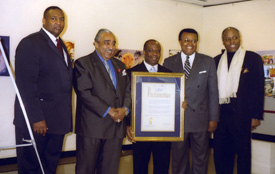 The Fisk Jubilee Singers of Nashville Tennessee were honored last Friday, March 5, in a reception held in the Art Gallery of the New York State Office Building in Harlem. The Singers carry on the legacy of the original nine-member acappella ensemble, which was organized in 1866 in the former Union Army barracks that became Fisk University, an institution founded to educate freed slaves.
Since the 1870's the Jubilee Singers have continued a Spring concert touring tradition. Now the oldest continuously performing acappella group in America, the Fisk Jubilees are best known for having introduced the nation and world to Negro spirituals and slave songs. According to the reception's program chair Dennis Day, a Fisk alumnus, "The original Singers were authentic American heroes. They are regarded as the Jackie Robinsons of their era, tearing down racial and social barriers, openly defying Jim Crow laws, and in the process setting an example of Black self-help by raising funds to build the first permanent structure devoted to the higher education of Blacks in America – Jubilee Hall. The Fisk Jubilee Singers are true American icons."
Congressman Charles B. Rangel, ranking member of the House Ways and Means Committee, made welcoming remarks to an enthusiastic audience of area educators, students, and community leaders. He noted that, "The Fisk Jubilee Singers showed us, as Black Americans newly out of slavery, what we could become. We had been regarded as chattel property, sold to the highest bidder, our families broken and brutalized by vicious racism. The Singers knew who they were. Their dignity and talent brought them before kings and royalty worldwide. They represented us then, as they do now, singing songs that sustain us as a people."
Reverend Michel Faulkner of New York's Central Avenue Baptist Church, used excerpts from a speech originally given at the Apollo Theater by the late Ossie Davis in 2000 to introduce the Singers. Rev. Faulkner presented a Mayoral Proclamation to Jubilee Singers director Paul Kwami, declaring March 5, 2005 Fisk Jubilee Singers Day in New York City. City Councilman Bill Perkins also praised the Singers' historic and continuing contributions to African American music and heritage.
The Singers rendered several stirring selections that seemed to deeply move the audience. Dr. Walter Turnbull, director of the Harlem Choir Academy, remarked, "This was a marvelous and powerful experience. It is important that our youth know our musical heritage. I hope that the Choir Academy and Fisk University can continue to build on our shared musical heritage."
Day noted that some members of the ad hoc Tribute Committee were unable to attend, but enthusiastically endorsed the honor because of the role that Fisk University and its Jubilee Singers continue to play in the struggle for human dignity and equal rights. Listed among the committee members are Wynton Marsalis, Don King, Dr. Lorraine Monroe, Valeria Spann, the Honorable Percy E. Sutton, and Sylvia Woods. Pfizer Corporation sponsored the Fisk Jubilee Singers Spring Tour 2005. For more information about Fisk University and the Jubilee Singers, go to www.fisk.edu.