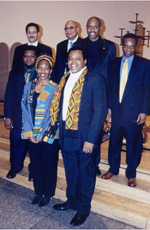 "Jazzstoria," a musical journey through Black History, draws from the rich literary and musical legacy of the African American experience. Singer-composer Dennis Day conceived the project as a means of entertaining and enlightening audiences regarding the powerful connection between African American literary evolution, Great American Jazz repertoire, and the Black journey in America.
Dennis made his New York City debut at the Presbyterian Jazz Society in 1984, appearing with Frank Foster, conductor of the Count Basie Orchestra. His concert was heralded by many as one of the better of the popular Westchester Second Sunday Jazz series. He is also no stranger to St. Peter's worshipers and concert goers, appearing over the years as the musical celebrant in Vesper services and musical tributes. Earlier he was presented at St. Peters in a special concert commemorating Dr. Martin Luther King Jr., which our late beloved Pastor John Garcia Gensel cited as "one of the most memorable of concerts."
A veteran performer, Dennis began singing at age five in church. Later he recorded for Steeltown Records in Gary, Indiana as lead singer of The Valients (the label also was first to record cross-town rivals The Jackson Five). As a featured vocalist and background singer Dennis led his own group, The Jades, to success with his Decca label recording, "My Loss Your Gain." While attending Fisk University, Dennis toured with the Fisk University Choir and became a regular demo vocal artist for Columbia Screen Gems on Nashville's fabled Music Row, stylizing songs for popular and country artists. After completing Bachelors and Masters Degrees at Fisk and the University of Chicago, respectively, Dennis eventually teamed with former Grammy nominees, Dr. Donald Byrd's Blackbyrds in Washington DC.
Jazz remains his forte, and today Dennis leads his own jazz groups in the New York City area. Herb Boyd, jazz critic for Downbeat Magazine and The Amsterdam News wrote, "Dennis Day is a versatile stylist who has an easy distinctive style reminiscent of Brooke Benton, Marvin Gaye, and the Platters' great lead singer, Tony Williams. Judging by his latest recording project, he has an obvious gift for composition, too."
Dennis was one of six vocalists selected by the venerable Blue Note Jazz Club to headline its jazz vocalist workshop series. He also appears as the voice of Pontious Pilate on WMCA's American Bible Society production of "The Passion Play." Dennis' most recent CD, Dennis Day – For Only You, is a nostalgic compilation of popular, R&B, and original compositions and features the late sax phenom Art Porter, Jr. The CD can be previewed and purchased at www.cdbaby.com/dday. Dennis plans to release a second CD this spring featuring great jazz vocal works.
Dennis says, "The opportunity to work in collaboration tonight with some of the finest contemporary musicians and artists is a real blessing. Kudos and lots of love to my friend, Nadine Mozon – one of the most talented persons on the planet. And thanks to the legions of gifted musicians who continue to inspire me to new heights."
About the Performers
Nadine Mozon is an actor, poet, and playwright. Her work includes regional theatre, television, and film. Nadine's poems have appeared in Essence, Gathering of the Tribes, Ms. Magazine, Lungfull, Clarity, and other magazines and anthologies.
As performer and writer, Nadine continues to enjoy creating new work for the stage. Her one-woman show, "Confirming the Search: That Girl's Still Here Somewhere," earned an AUDELCO Award in New York and a Drama-Logue Award in Los Angeles. In Fall 2000 her ensemble theater piece, "ID Please," was presented at the Tribecca Performing Arts Center. Other works written for the stage are "Saying Grace" and "Overflow."
Other of Nadine's recent credits include the theatrical production of "Crumbs from the Table," and appearances on television's "One Life to Live," "Law & Order," and "Reading Rainbow." Nadine can currently be seen in HBO's airing of the film "Shaft," in which she appears in the role of an abused woman.
Nadine also taps into the imaginations of students from ages five to 18 through interactive storytelling/ theater/poetry workshops and programs, which she created and calls "Mozart for Young Audiences." She is currently working on a book of poetry with a companion CD.
Richard Wyands, pianist, is legendary among jazz listeners. He has recorded numerous albums and CDs as leader and accompanist. For many years Richard was pianist and music-conductor for the late, great Ms. Ella Fitzgerald.
David Jackson has been the chosen bassist for many of contemporary jazz's greatest small groups and Big Bands. He tours regularly with the Illinois Jacquet Big Band and with drummer Thelonius Monk Jr.'s popular group.
David Gibson, drummer, is from Philadelphia, where he earlier taught music in its city schools. Dave has performed regularly with The Count Basie Orchestra, tours with other small ensembles, and leads his own group.
James Zollar, trumpeter, hails from St. Louis. James was recruited by the late Mercer Ellington to serve in the fabled horn section of the Duke Ellington orchestra at an early age. James was among the original group of musicians who appeared in Dennis Day's first concert at St. Peters in 1988. James tours extensively abroad.
Anthony E. Nelson, alto sax, is new to the Dennis Day musical experience. Hailing from Teaneck, New Jersey, Anthony is fast developing a reputation among jazz circles as an adept and innovative soloist and "young lion" of jazz.
Program

Afro Blue
Natima
Night in Tunisia
Midnight Sun
All Blues
In My Solitude

Miles Davis
John Coltrane
Dizzie Gillespie
Lionel Hampton
and June Christy
Miles Davis
Duke Ellington

Hush – Somebody's Callin' My Name
African American Spiritual
Without a Song
Intermission (10 minutes)
Blues Medley
On the Street of Dreams
How High the Moon
Trouble Down Here Below
It Don't Mean A Thing if it Ain't
Got that Swing Duke Ellington
In Walked Bud Thelonius Monk Sr.
Tribute to the Dreamer
Sack Full of Dreams